AIA Rich­mond August 8, 2009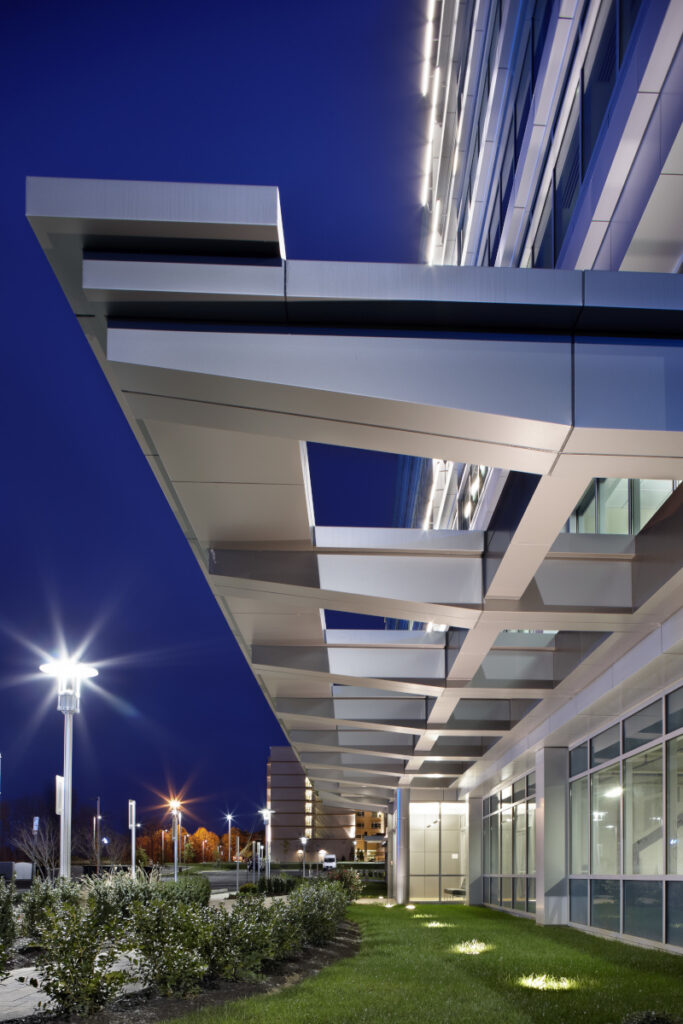 The Reynolds Office Building
2009 Mer­it Award Win­ner
Project loca­tion:
Rich­mond, VA
Gen­er­al Con­trac­tor:
Kjell­strom & Lee Con­struc­tion
Own­er:
Reynolds Devel­op­ment & Linger­felt Com­pa­nies
Pho­tog­ra­ph­er:
J. West Pro­duc­tions, LLC
205,000 GSF office lease space with pub­lic lob­bies, con­fer­ence cen­ter, café and build­ing sup­port. Ten­ant improve­ments are to be con­tract­ed sep­a­rate­ly.
The pro­gram brief is set against the back­drop of cor­po­rate life cycles, just beyond the shad­ow of the head­quar­ters of a 20th Cen­tu­ry cor­po­rate titan that has been recent­ly dis­solved. In the corporation's dis­so­lu­tion, the client group, led by a for­mer senior exec­u­tive and descen­dant of the com­pa­ny founders, acquired adja­cent land to estab­lish a beach­head for new ven­tures. The result­ing project, a 208,000 GSF office build­ing, is the new ves­sel for their enter­prise.
The archi­tec­ture is a rein­ter­pre­ta­tion and exten­sion of val­ues embod­ied in the orig­i­nal mid-cen­tu­ry cor­po­rate facil­i­ties. The orig­i­nal struc­ture (an award win­ning design of pris­tine mid-cen­tu­ry mod­ernism by Skid­more, Owings and Mer­rill under the direc­tion of Gor­don Bun­schaft) embod­ies the peri­od archi­tec­tur­al enthu­si­asm for an ide­al­ized and uni­ver­sal spa­cial expres­sion. The project puts forth an evo­lu­tion and expan­sion of that sen­si­bil­i­ty by cre­at­ing a par­tic­u­lar, direc­tion­al and man­nered com­po­si­tion anchored to the spe­cif­ic site. Each façade expo­sure is nuanced to take advan­tage of the par­tic­u­lar­i­ties of ori­en­ta­tion, view, topog­ra­phy, etc. The build­ing form is orga­nized as a series of lay­ers expand­ing out­ward from a ground­ed cen­tral core to cap­ture light and views thru a zone of medi­a­tion between exte­ri­or and inte­ri­or.
Jury Com­ments:
Applaud­ed com­mit­ment to sus­tain­able design in a spec­u­la­tive office struc­ture.
Appre­ci­at­ed unapolo­get­i­cal­ly mod­ern design vocab­u­lary, com­pli­ment­ing the exist­ing Gor­don Bun­shaft build­ing near­by.
Rich, but well designed use of mate­ri­als at inte­ri­or spaces.